Planning a trip to Yukon? Great! If you're wondering how to get here, we prepared a quick guide which explains how to get to Yukon by air, by ship and by road.
Getting to the Yukon By Air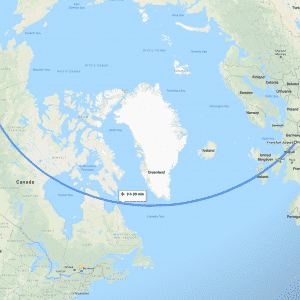 Condor flies directly from Frankfurt/Main (Germany) to Whitehorse once a week (Sundays) between the middle of May and the middle of September.
Daily service is available to Whitehorse through Vancouver, B.C. via Air Canada.
Air North, Yukon's Airline provides Boeing 737 service daily from Vancouver. A seasonal service from Calgary or Edmonton to Whitehorse is also available.
Getting To the Yukon By Road
Alaska Highway – from Dawson Creek, British Columbia (approx. 900 miles / 1,400 km to Whitehorse)
Stewart Cassiar Highway (No. 37) – from Kitwanga, British Columbia (approx. 700 miles / 1,130 km to Whitehorse)
Motorists are advised to check the Yukon Road Report (issued weekdays) before driving these highways. The Alaska Highway, in better condition than the Stewart Cassiar, is undergoing major upgrades at points throughout its 1,388-mile (2,233-km) length.
Gasoline prices along the Alaska Highway and Stewart Cassiar Highway range from approx. 110 cents/liter to over 160 cents/liter in remote locations. Signs indicating the distance to the next gas station are posted on both highways.

Getting to the Yukon By Ship
The Alaska Ferry System & Marine Highway runs vehicle and passenger ferries between Bellingham, Washington, and several ports-of-call in Alaska. To reach the Yukon, disembark at Skagway and head over the White Pass, or dock at Haines and enter via the Chilkat Pass.