A Journey of Connection and Discovery on the Yukon River - Guide Story
Being a guide is no walk in the park. Whether ushering people to luxury hotels or immersing them in the wild, it's a demanding job. Over my years guiding in the Yukon & Alaska, I've seen it all—amazing trips and challenging group dynamics. Through these experiences, one truth became evident: external challenges like bad weather, a crowded campsite after an 8-hour paddle, swarms of mosquitoes, or sickness, fade away when your guests bring the right attitude.
Let's dive into the tale of a lifetime—a journey of connection and discovery on the Yukon River that made me rethink my role as a leader and as a person, an experience that was profoundly empowering.
It was the first trip of the year on the Yukon River, late May, just after the snowmelt. A last-minute call to lead this "all women crew" had me rushing from Revelstoke to Whitehorse, a two-and-a-half-day drive. Arriving tired and stressed, I met my co-guide, and instantly, I knew we'd make a great team. She was efficient, strong, smart, and eager to learn.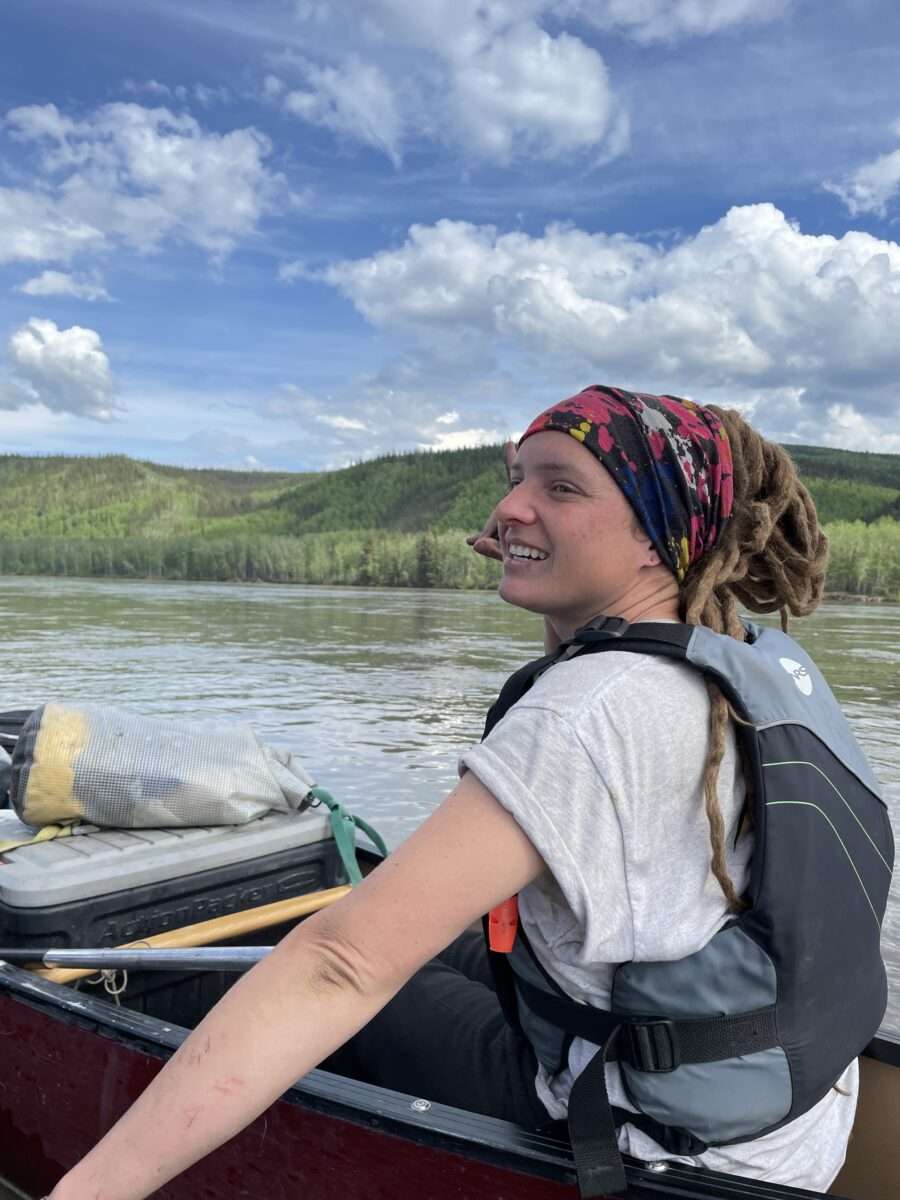 The prep was chaotic with a tight timeline. Sunday came, and we met the group—six ladies with some kind of connection to each other, all of them around 70 years of age. During the pre-trip meeting, they shared their stories and reasons for joining the adventure. All very different personalities, each intriguing in their own way. While I sensed they were special from the start, experience taught me to be cautious initially. People truly reveal themselves when faced with challenges, and challenges were sure to come.
The next day, we drove to the put-in. As I explained paddling techniques, their eyes reflected a mix of excitement and worry. Once the boat hits the water, there's no turning back, and I could feel their concerns. The first day is always a bit nerve-racking, as a guide, you must deal with this nervousness and help your clients feel comfortable and confident, even as you run a mental checklist of "100 items you might have left behind." Safety becomes your only priority, your tone changes, you become the authority. The last thing you want is a flipped boat on the very first minute of the trip…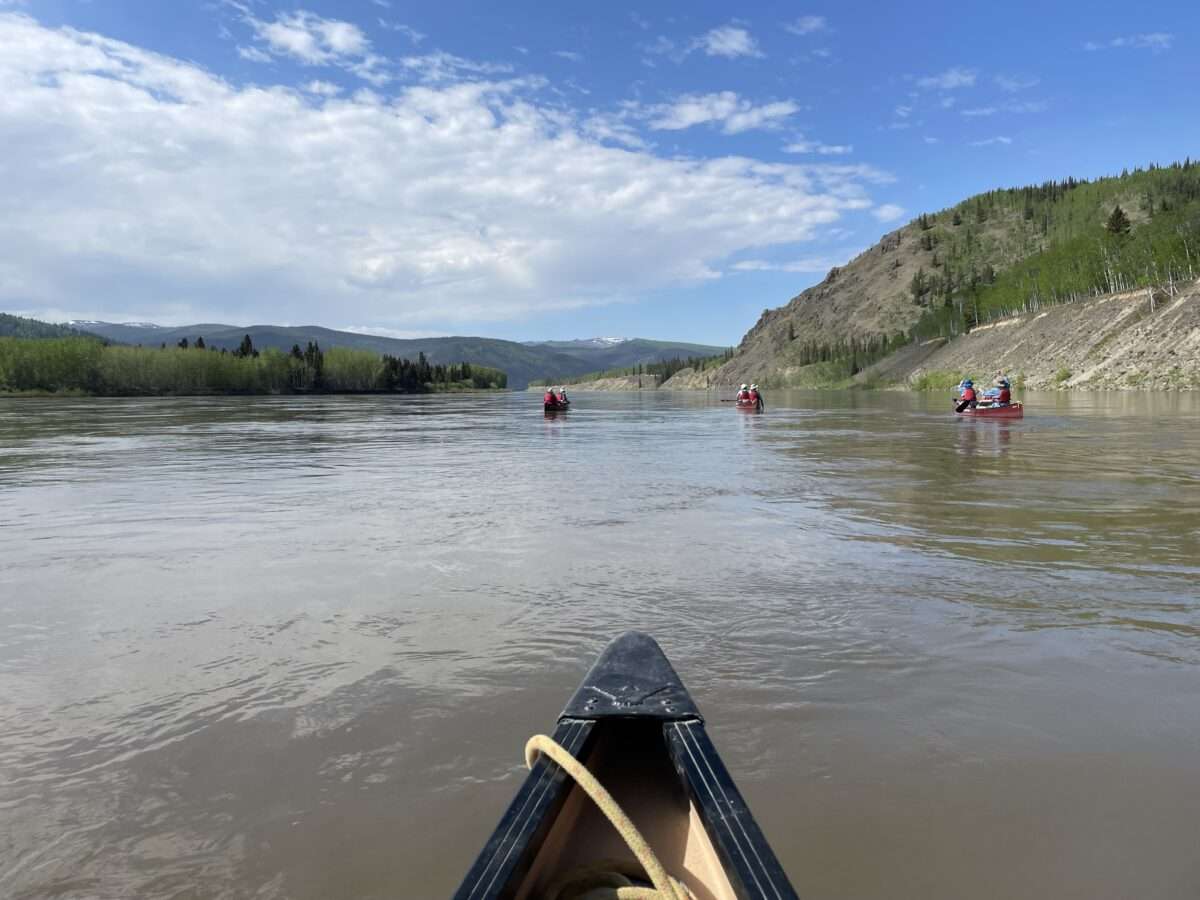 The Yukon River to ourselves
The Yukon is a wild land, almost intimidating in its vastness. I still marvel at the pristine wilderness, and I believe it is impossible for anyone to grasp the extent of it until they truly experience it. After a successful launch, we began our adventure. Our paddles cut through the water, smoothly navigating despite the rising water levels. Finding a safe spot to land our 4 boats anywhere was challenging, but the group remained in good spirits.
It was early season enough that we had the Yukon River to ourselves. As the days went on, energy flowed wonderfully. Life on the river was beautiful, and camp life was friendly and harmonious. I watched those women bond through shared experiences, getting to know each other on a deeper level with each day. They shared stories, read poetry, went for cold swims in the river, and helped us with kitchen duties. Sore arms, achy backs, pit toilets, and mosquitoes were never issues; the group was in it for the adventure, all of it.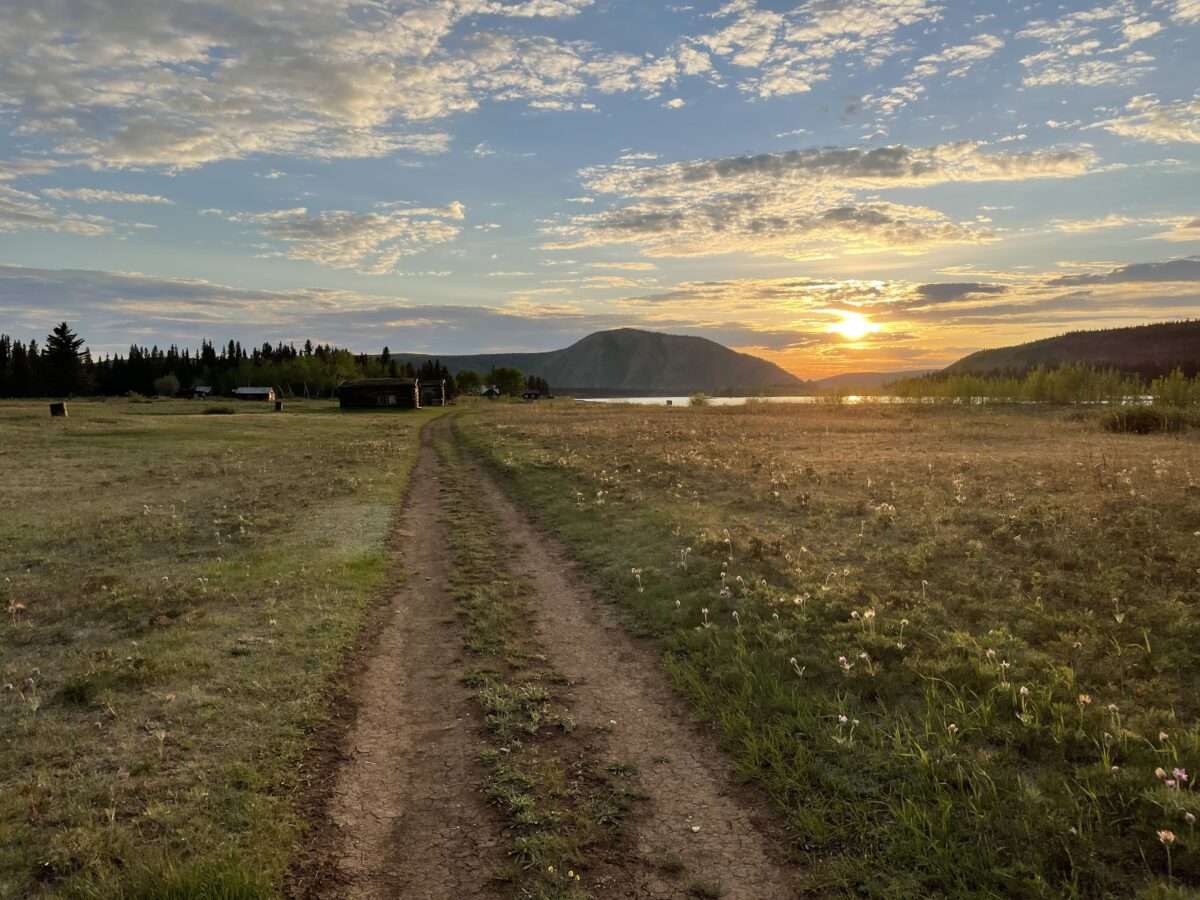 As predicted, challenges arose. Rising water levels made finding safe landing spots nearly impossible. We faced issues with campsites, broken water filters, winds, difficult river crossings, but it didn't seem to matter. Their high spirits were unbreakable. They cared for each other and for us in a way I had never witnessed. My co-guide and I worked through it all, and gradually, I began to soften, to open up more.
That level of harmony on any wilderness adventure is rare. Not everyone is well prepared to sacrifice their usual comfort and sense of safety. Ultimately, the positive energy they all injected in this adventure is what made it special. They each brought something important to the table with their unique characters and their own ways of showing kindness.
After a week on the river, the water levels became uncontrollable. Full trees floated alongside, and the once-tamed current turned extremely powerful. Decisions on which channel to take had to be made well in advance, or you'd be pushed mercilessly in the wrong direction. The group became concerned, fully aware that everyone was paddling to the best of their abilities.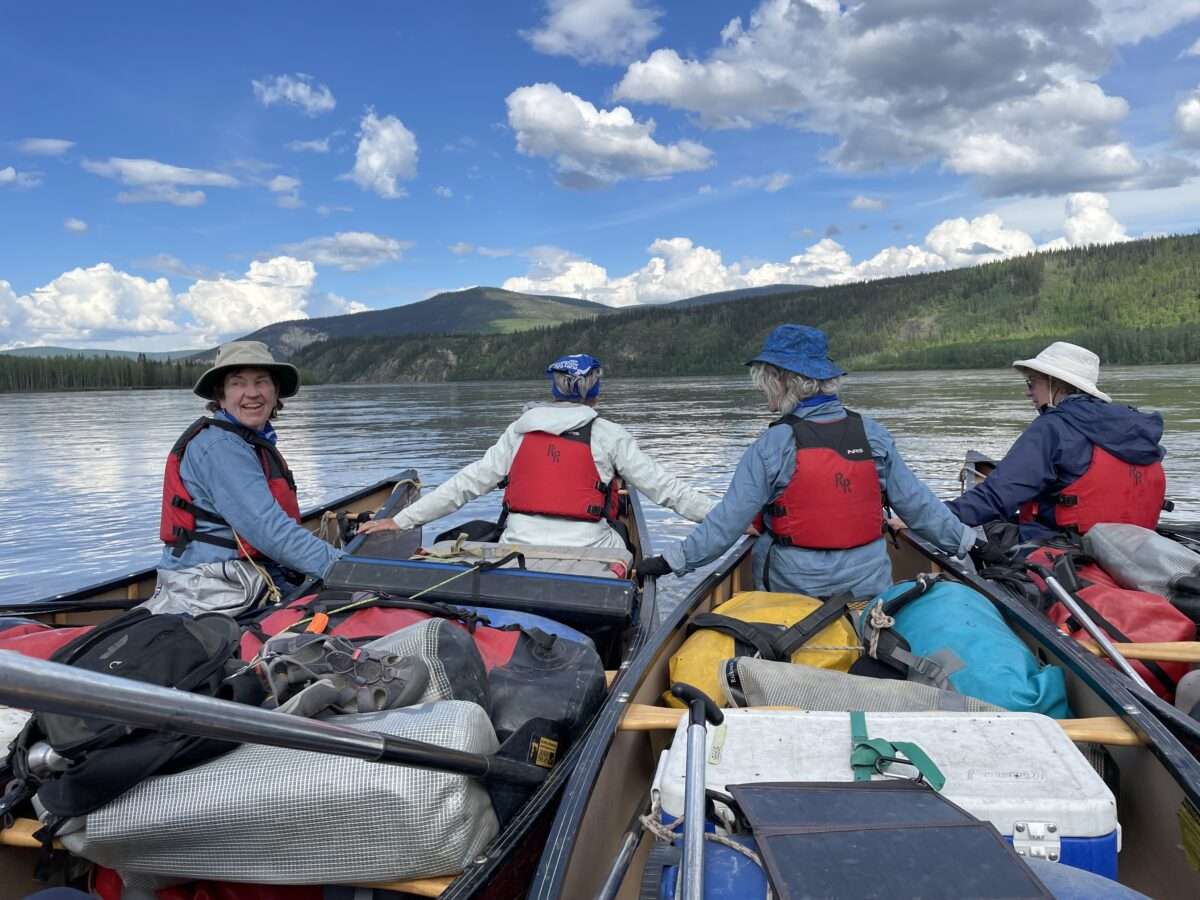 The Adventure Keeps Going
We decided to cut the trip short by one day and paddle all the way to Dawson City to avoid potential problems. Turns out, we made the right call. A group a few days behind had to be rescued due to dangerous water levels.
We arrived in the Gold Rush city on a beautiful sunny day, signing loudly on the last few kilometers. Hearts were full. As always, a sense of relief washes over you once you reach civilization after a wilderness experience. That night, watching the show at Diamond Tooth Gertie's Casino, I let go of a few quiet tears in the dark room. We had just gone through a tough but beautiful experience together. It was time to let go of the "guide mask" and share and celebrate the meeting of all these amazing souls.
Our time in Dawson was precious and perfect. They even convinced me to drink the Sour Toe Cocktail! After 10 years in the Yukon, it is something I had promised myself I would never do… The adventure continued as we rescued two dogs on our way to Whitehorse. During our farewell dinner, I received the kindest words ever as a leader—comments from the heart, born out of a transformative experience shared on the river as a group.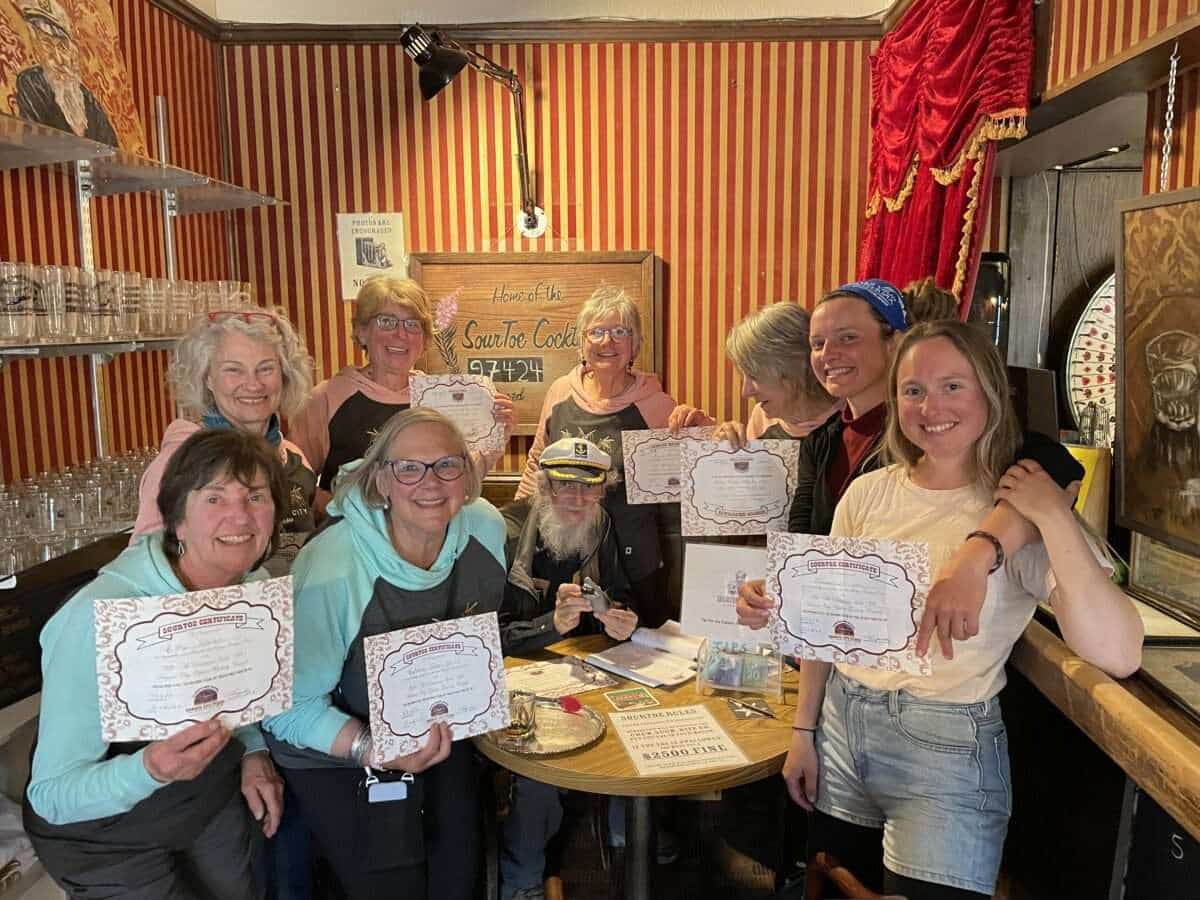 Choosing to simply do your job as a guide might be easier, but sometimes life gives you an opportunity to reconsider your role and be inspired by your clients. They become your friends, even if just for a moment. It might not have been the craziest, most difficult, or exotic trip, but it was a journey of deep human connection and discovery for all of us. This beautiful and empowering feminine energy will stay with me for the rest of my life. Truly, an unsuspected journey of connection and discovery on the Yukon River.
– Chloe Dumont Samson