Hiking and backpacking in Tombstone Territorial Park
Not a simple walk in the park
Tombstone Territorial Park is one of the Yukon's most spectacular areas. Hiking or backpacking in the park should certainly be on your list when visiting the Territory. In this magical wilderness wonderland, you can experience boreal forest, as well as alpine and arctic tundra. The scenery and rugged mountain peaks are outstanding and your adventure will be so much more than a simple walk in the park.
Your adventure begins on the Dempster Highway
The park itself lays in a remote area along the Dempster Highway, about 110 km northeast from Dawson City. Driving the 70 km on a rough gravel highway, which is dotted with potholes, is an adventure in itself. You are heading into the Yukon's wilderness without cell service and where fuel stations are few and far between.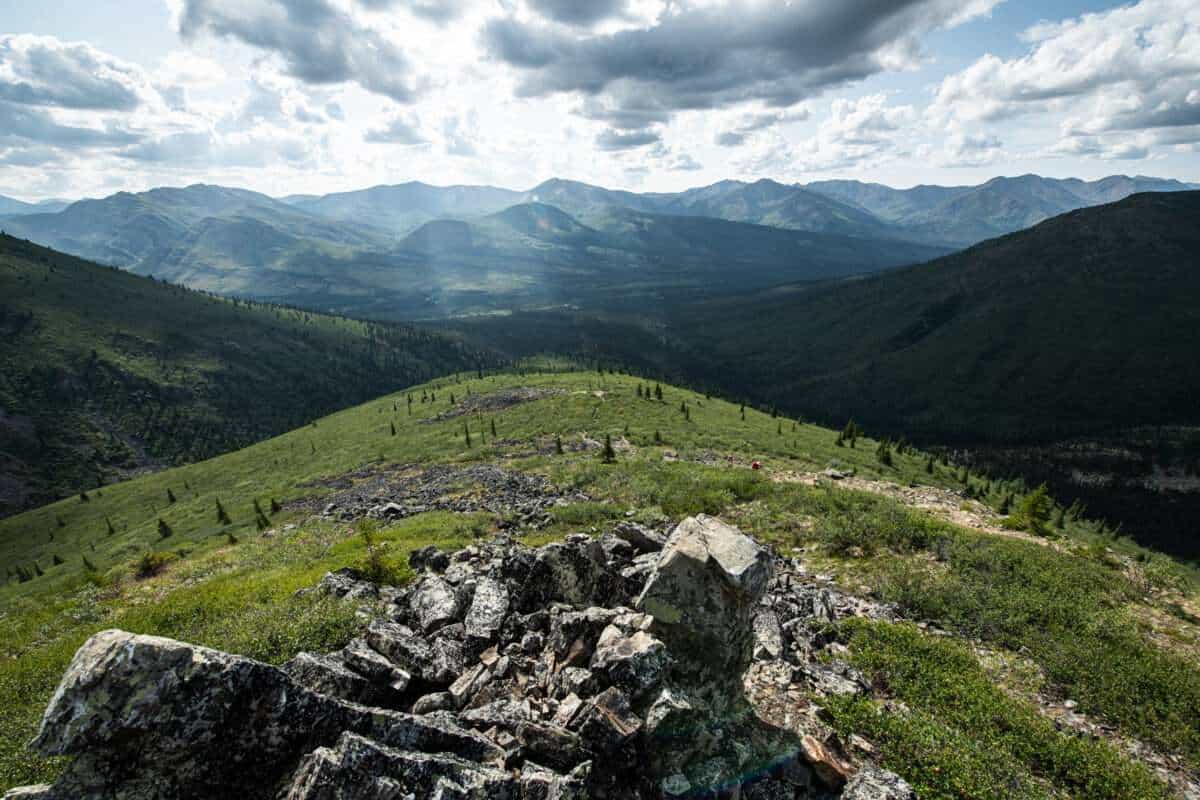 Getting ready to go hiking at the Tombstone Interpretive Center
Before you head into the park, allow time to explore the interesting displays about the cultural and natural history of the park in Tombstone Interpretive Center. Here you can stock up on maps and get permits as well as information about current trail conditions and wildlife activity. A stop in the center to register is mandatory if you're planning an overnight trip.
You may just be planning a stroll into Tombstone, but even short adventures in these mountains are more complex than a simple hike. Tombstone Park is a remote wilderness area. Hikers and backpackers must be self-sufficient and well prepared for quickly changing weather conditions and rough terrain.
A stroll through the wilderness on Tombstone's popular day hikes
You're not an avid hiker, but would you still like to enjoy the wilderness and get taste of Tombstone Park? Don't worry, since several short day-hikes are easily accessible from the Dempster Highway.
The North Klondike Trail is an excellent option. During this easy hike you will be rewarded with beautiful views of the area. Starting at the Tombstone Mountain campground, you will first follow the scenic North Klondike River through lush poplar forest. Then, you'll get gorgeous views of the valley and the surrounding mountains.
Another more moderate option for a shorter day hike is Goldensides Trail. This trail is steeper and leads up to the shoulder of a mountain. At the top you'll have spectacular views of the surrounding mountains and the valley, including the Dempster highway. You may hear and see ground squirrels, marmots and pikas.
Remote, challenging and spectacular hiking & backpacking in Tombstone Territorial Park
Remote and wild country like Tombstone Park begs for exploration. But it also begs for careful preparation of your equipment and yourself. The Tombstone mountains are no walk in the park and are unforgiving towards the unprepared. If you decide to go hiking and backpacking in Tombstone Territorial Park, expect rough terrain such as uneven ground, unstable or slippery rocks, roots, muddy sections, and steep hills. While overcoming these challenges, you will be amazed by the magnificent views and unparalleled natural beauty.
The most popular backpacking route in Tombstone is a 48 km return hike over Grizzly Lake to Divide Lake, and then onward to Talus Lake. Minimum three days are necessary to complete the whole hike through extremely difficult terrain. Backpacking Tombstone is after all a real adventure.
Your first day of hiking starts with a difficult 11.5 km hike to Grizzly Lake. Halfway through your 7- 10-hour hike you will marvel at the stunning views of the entire Grizzly Valley before setting up your camp at Grizzly Lake campground. From there day hikes to Twin Lakes are possible.
After starting strong on your first backpacking day, you will need even more skills and endurance for the next 6 km of extremely difficult terrain from Grizzly Lake to Divide Lake. Take your time when navigating steep hills with unstable and loose rocks.
The last sections of the trail, the 6 km from Divide Lake to Talus Lake are fairly easy. On this section you will enjoy the view of the iconic Tombstone Mountain. Set up your camp at Talus Lake, from where you can explore the base of Mount Monolith or the surrounding valleys in day trips.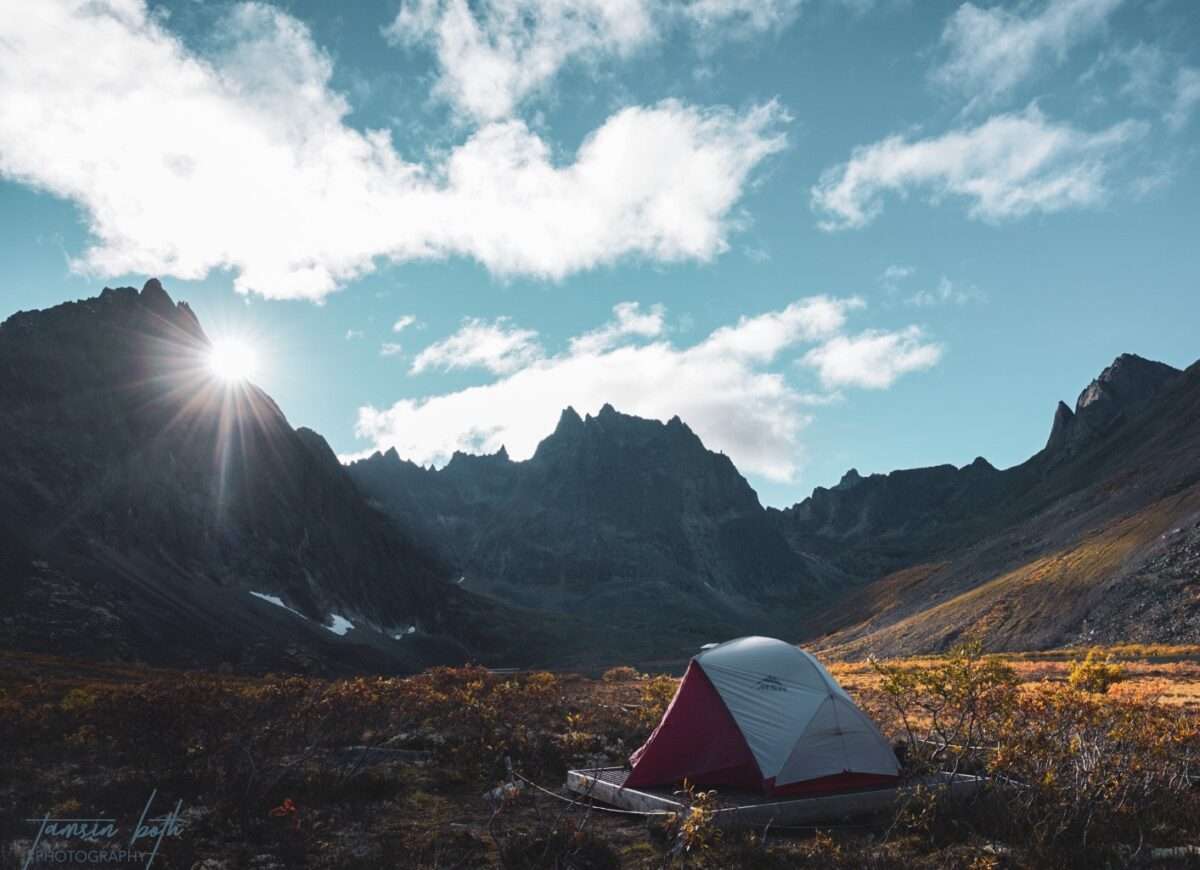 You've made it! You reached Talus Lake and explored the area. Rest your feet, enjoy your stay in the wilderness and become one with your surroundings. Few have seen or will ever see this unparalleled natural beauty. Savour the moment and prepare yourself for your next adventure: your return hike to the trailhead. Now that you've seen the challenges and can look forward to seeing the natural wonders of Tombstone Park again, this part of the adventure may feel more like a simple walk in the park.