Planning a trip to the Yukon? Great! If you're wondering how to get here, we prepared a quick guide which explains how to get to the Yukon by air, by ship and by the road.
Getting to the Yukon By Air
Flying to the Yukon is the easiest and quickest way to access the territory. Once you land in Whitehorse, you will be 5 minutes away from downtown and the start of your adventure. Flying is easy, accessible and cheaper than you might think!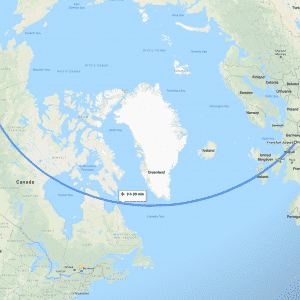 Condor flies directly from Frankfurt/Main (Germany) to Whitehorse once a week (Sundays) between mid-May to mid-September. Condor also flies to Anchorage, Alaska several times a week over the summer and Fairbanks weekly.
Several airlines  Air Canada  Westjet   offer daily services to Whitehorse through Vancouver, B.C. It is only a 2 hours and 15 minutes flight!
Air North, Yukon's Airline, provides Boeing 737 service daily from Vancouver. A seasonal service from Calgary, Kelowna, Edmonton, Yellowknife, Ottawa and Victoria to Whitehorse is also available.
Getting To the Yukon By Road
Driving to the Yukon is a great option if you have enough time to enjoy the ride. Once in British Columbia, you have 2 main road options to make it to the Yukon.
Alaska Highway – from Dawson Creek, British Columbia (approx. 900 miles / 1,400 km to Whitehorse)
Stewart Cassiar Highway (No. 37) – from Kitwanga, British Columbia (approx. 700 miles / 1,130 km to Whitehorse)
Motorists are advised to check the Yukon Road Report (issued weekdays) before driving these highways. The Alaska Highway, in better condition and is more traveled than the Stewart Cassiar Highway. Both highways are situated in very remote locations and cell service will not be available for most of the drive. Be prepared and plan accordingly!
Gasoline prices along the Alaska Highway and Stewart Cassiar Highway range from approx. 120 cents/liter to over 190 cents/liter in remote locations. Signs indicating the distance to the next gas station are posted on both highways. It is very important to fuel up at every given opportunity!

Getting to the Yukon By Ship
The Alaska Ferry System & Marine Highway runs vehicle and passenger ferries between Bellingham, Washington, and several ports-of-call in Alaska. To reach the Yukon, disembark at Skagway and head over the White Pass, or dock at Haines and enter via the Chilkat Pass.